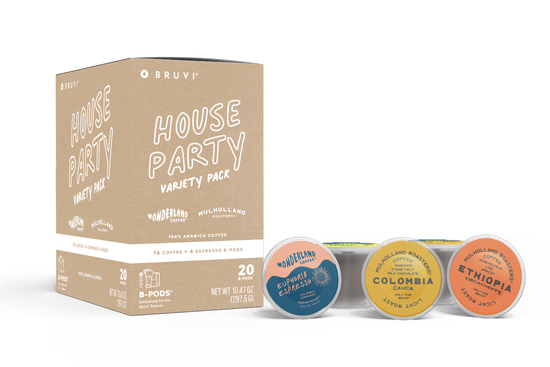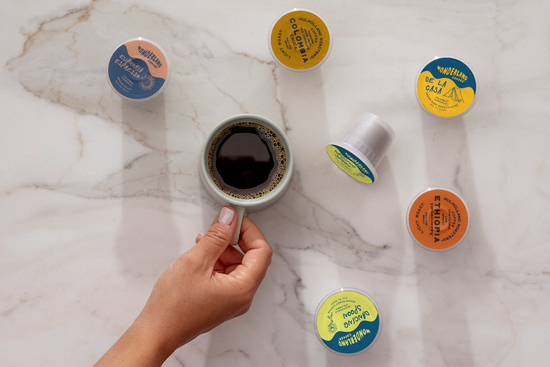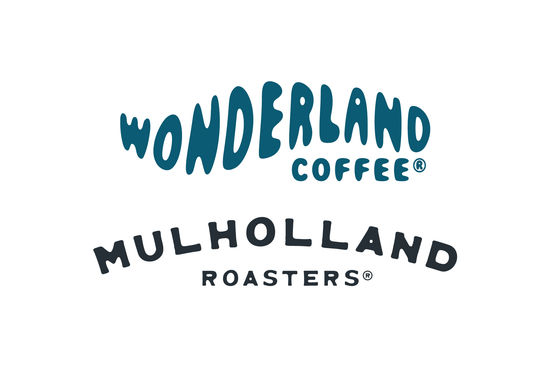 Variety Pack
Variety Pack | 20 count
B-Pods® work exclusively with the Bruvi® brewer and vice versa.
You are

$59.00

away from free shipping!
About this B-Pod
The House Party Variety Pack is a party for your palate! Sample premium craft coffees and espressos sourced from all over the world. All are ethically and sustainably produced and include offerings from women owned farms and limited production coffees. Each is batch roasted to bring out individual flavor nuances. Let's get this party brewing.
WONDERLAND COFFEE
De La Casa (5)
Coffee
Medium-Dark Roast
Colombia, Honduras
WONDERLAND COFFEE
Dancing Spoon (5)
Coffee
Medium Roast
Guatemala, Colombia
WONDERLAND COFFEE
Euphoria (4)
Espresso
Medium Roast
Colombia, Honduras
MULHOLLAND ROASTERS
Colombia (3)
Coffee
Light Roast
Colombia
MULHOLLAND ROASTERS
Ethiopia (3)
Coffee
Light Roast
Ethiopia
See what people are saying
Bruvi

Loved the variety. Coffee is delicious

Nice machine

I've only had my Bruvi for a month, but have enjoyed familiarizing myself with different pods and trying out the pods. I can feel myself. I wish there was an alternative to throwing the pods in the trash. My county will not take any part of them for recycling. The only downside is that you can only buy the pods from Bruvi.

B

Bruvi

2 weeks ago

Hi Elizabeth,
So glad you are enjoying your Bruvi. Not sure if you know about this about our B-Pods, but you don't have to feel bad about throwing them in the trash...they are specifically designed for that! We add a food safe enzyme to the pods that allows them to degrade in the landfill more rapidly and without leaving microplastics behind. We did this specifically because a lot of counties are like yours and don't accept coffee pods for recycling and they instead end up in landfills anyway. So we decided to use a technology that takes advantage of the existing waste disposal infrastructure and turn it into a more practical and realistic option. Easier for you, better for the environment. Also, you can also find some of our B-Pods on Amazon but the full selection is available on our site (and once you settle on favorites, you might want to set up Auto Delivery and save 20% on every purchase.) Thanks for sharing your feedback and for being part of the Bruvi community.

New pack suggestion

I would like a pack without expresso

Nice product! Great coffee!

Overall, it's a very nice selection of coffee. I'd like to see a few decaf pods added, though.

Truly my life has changed forever

I didn't realize just how lame my coffee game was until I upgraded to Bruvi. I now bring my own coffee with me everywhere I go because other people's at-home coffee game cannot compare. I tell all my friends that they have to get Bruvi because the quality is just that much better.
Reviews Loaded
Reviews Added