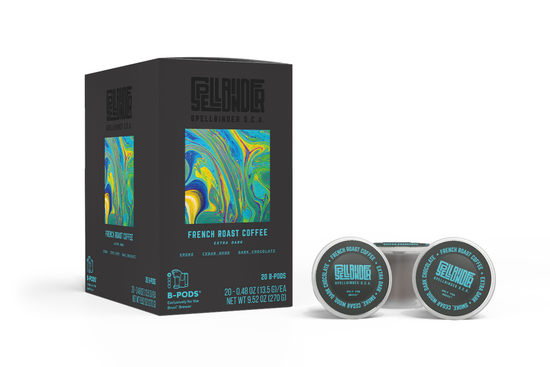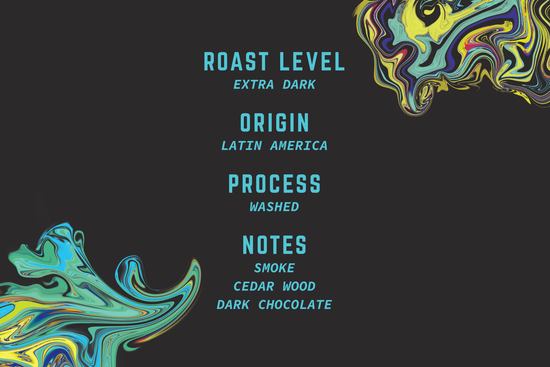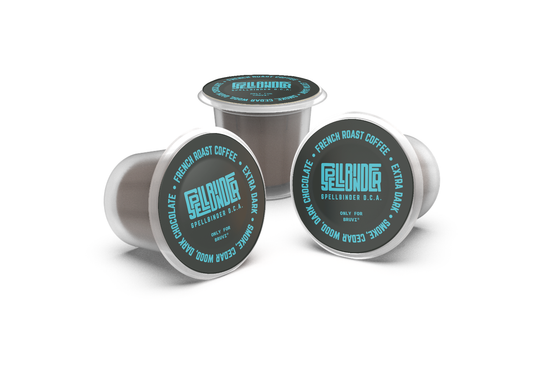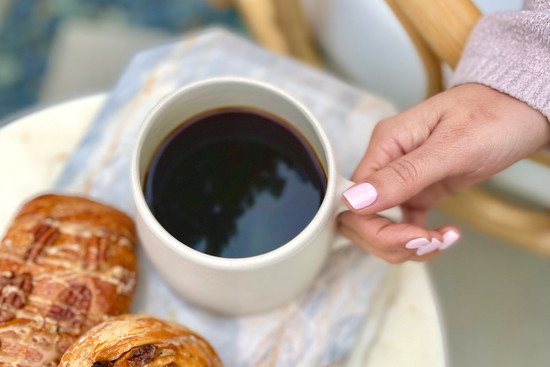 French Roast Coffee
Coffee | 20 count
B-Pods® work exclusively with the Bruvi® brewer and vice versa.
You are

$59.00

away from free shipping!
About this B-Pod
A blend of Latin American coffees are roasted past the "second crack" to create a deep and complex French Roast coffee, with notes of smoke, wood and dark chocolate.
Origin
Latin America
Process
Washed
Notes
Smoke
Wood
Dark Chocolate
Dark Coffee Magic
Spellbinder D.C.A. (Dark Coffee Alchemists) is dedicated to a single, previously elusive goal: making truly delicious dark roast specialty coffees. Our experts have perfected a balanced roast profile that preserves the integrity and goodness of the bean while delivering the intense, bold flavors that dark roast coffee lovers crave. A blend of Latin American coffees are roasted past the "second crack" to create deep and complex coffees. That's the magic of Spellbinder.
You may also like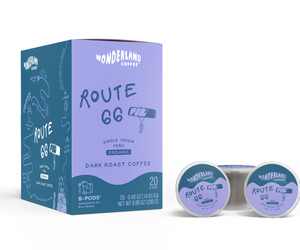 Wonderland Coffee
Add to Cart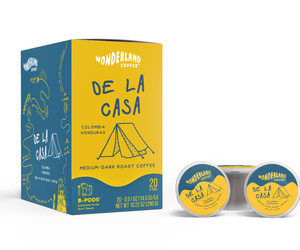 Wonderland Coffee
Add to Cart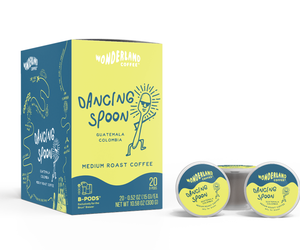 Wonderland Coffee
Add to Cart
See what people are saying
French Roast

Best flavor for those who like dark roast, conventional coffee, like to make it at max 6 oz, usually a bit less.

Weak without flavor

Was so disappointed. I tried brewing this using every different combo- extra hot, extra strong, mixed and matched them all. Each one tastes like extremely diluted coffee, almost like someone just steeped whole beans for a minute and called it good. Not sure if I just got a bad batch, but it was a HUGE disappointment.

B

Bruvi

1 week ago

Hi Claire
Thank you for taking the time to share your feedback which I will share with our coffee team. I'm sorry you were disappointed in the Spellbinder French Roast. If you are interested in a dark roast coffee, you may want to consider Wonderland Route 66 or our recently introduced LAMILL Black Onyx coffee. If our Customer Care team can be of any help, please reach out to hello@bruvi.com

Excellent!!

Extremely good dark roast, smoothest dark I've ever had. This rivals any dark out there to include anything from starbucks. This one puts Bruvi above Kuerig in our home.

Taste is so-so

What I love about bruvi is that each pod is made perfectly but for some reason this coffee always comes out tasting burnt

B

Bruvi

4 weeks ago

Hi Rel,
Thanks for sharing your feedback. This French Roast is an extra dark roasted coffee so it does have a distinctively toasty taste profile. You can try brewing it in a larger size but I suspect it just isn't to your liking. You may prefer either Wonderland Route 66 or our new LAMILL Black Onyx coffee - both are dark roast but with smooth, balanced flavor (and not as dark as the Spellbinder.).

Strong and dark

This new coffee is strong enough for my coffee-loving husband.
Reviews Loaded
Reviews Added